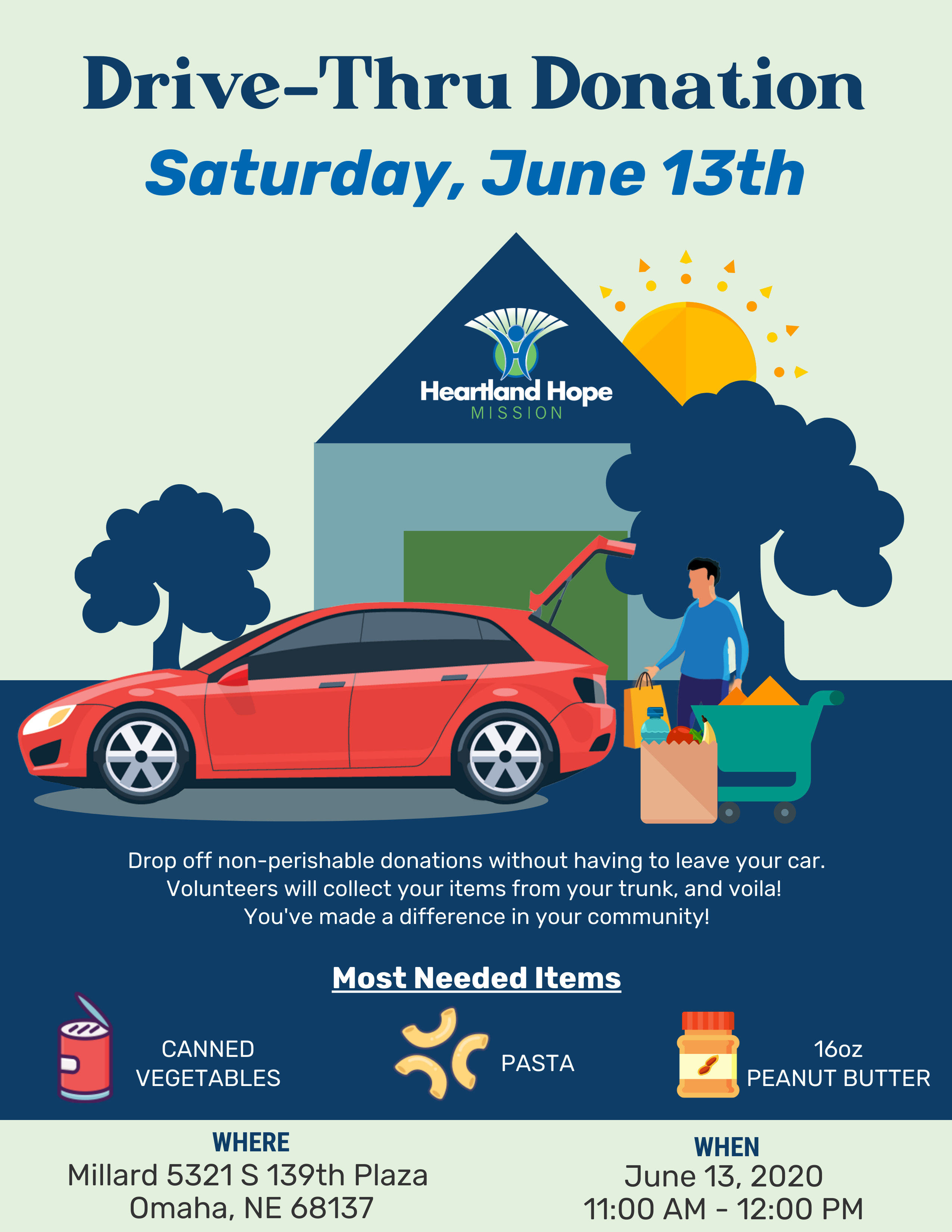 DRIVE THRU DONATION DROP OFF-SATURDAY, June 13th
We need your help to restock our shelves. Heartland Hope Mission is now serving almost triple the amount of families due to the COVID-19 threat. You can drop off non-perishable food items and full sized hygiene items at our Millard location on Saturday, June 13th.
When: Saturday, June 13th from 11:00 am to 12:00 pm
Where: Heartland Hope Mission's Millard location 5321 S 139th Plz Omaha, NE 68137
Biggest Needs: Canned vegetables, pasta, 16 oz peanut butter, and full sized hygiene products.
You do not need to get out of your vehicle. Staff members will direct you and ask you to pull up next to the curb in front of our building. Please place donation items in the trunk of your vehicle for volunteers and staff will unload. Tax receipts are available upon request. For more information, please contact Renae at Renae@HeartlandHopeMission.org.
---
---
In order to ensure social distancing guidelines, we have closed our clothing pantry until further notice. Currently, we are not accepting clothing and household item donations. We do, however, need food and hygiene products.
Our Biggest Needs
Food
Hygiene
Baby Diapers

We need all sizes but our biggest need is sizes 4-6.

Full Sized Shampoo and Body Wash
Donation Drop Off Locations and Hours
South Omaha

2021 U Street
Omaha, NE 68107

Prime drop off time:
Fridays 9:00 am to 1:00 pm

Or during normal pantry hours:
Tuesdays 6:30 pm-7:30 pm
Thursdays 1:30 pm-4 pm
Saturdays 9:30 am-1 pm

Millard

5321 S 139th Plaza
Omaha, NE 68137

2nd Saturday of the month 10:30 am-11:30 am
Last Wednesday of the month 1:30 pm-3:30 pm
Schedule a donation drop off time
Please call Renae by email at Renae@HeartlandHopeMission.org to schedule a drop off of your donation outside of normal pantry hours.