COVID 19 Updates from Heartland Hope Mission
April 17, 2020
---
April 9, 2020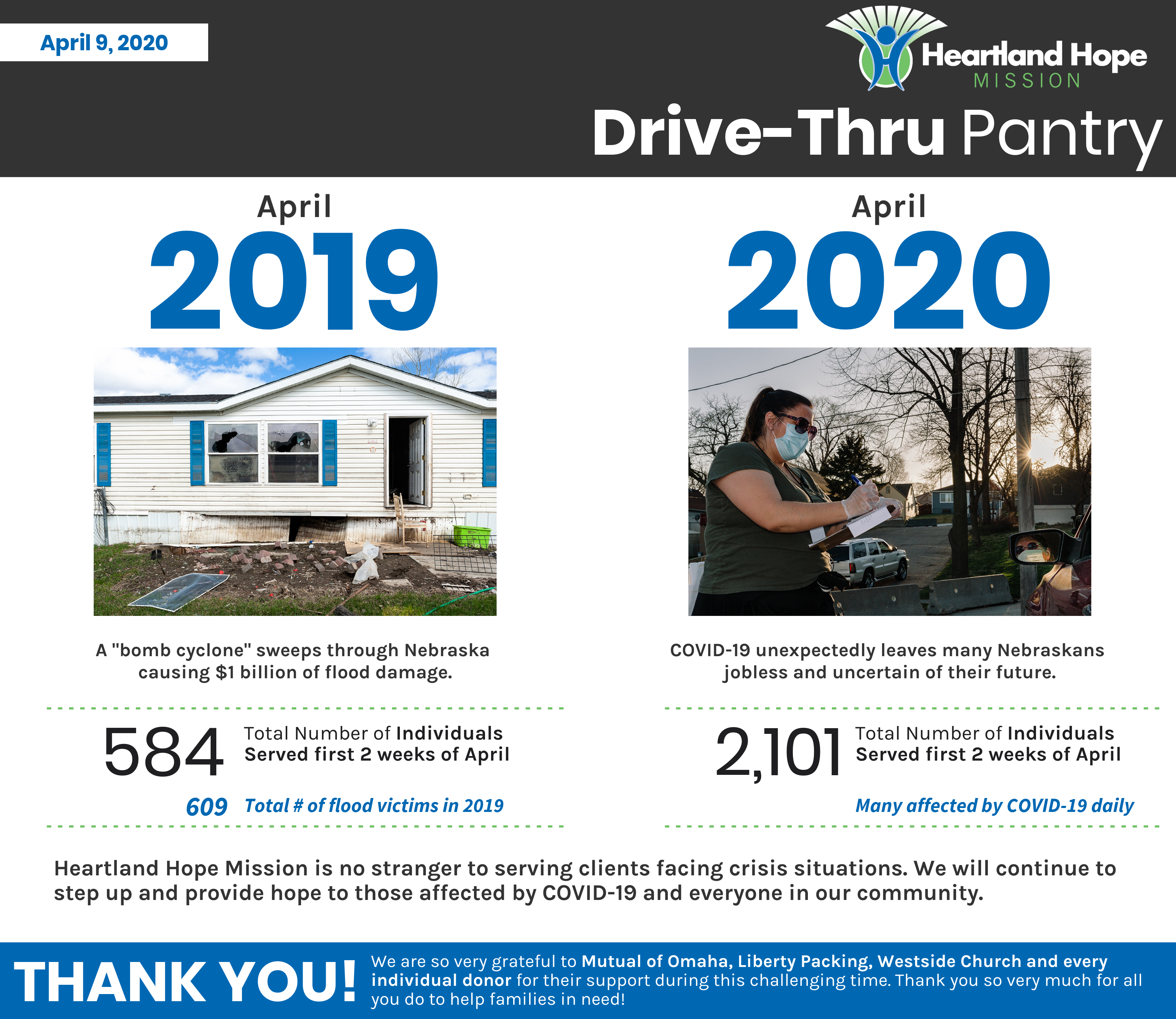 April 2, 2020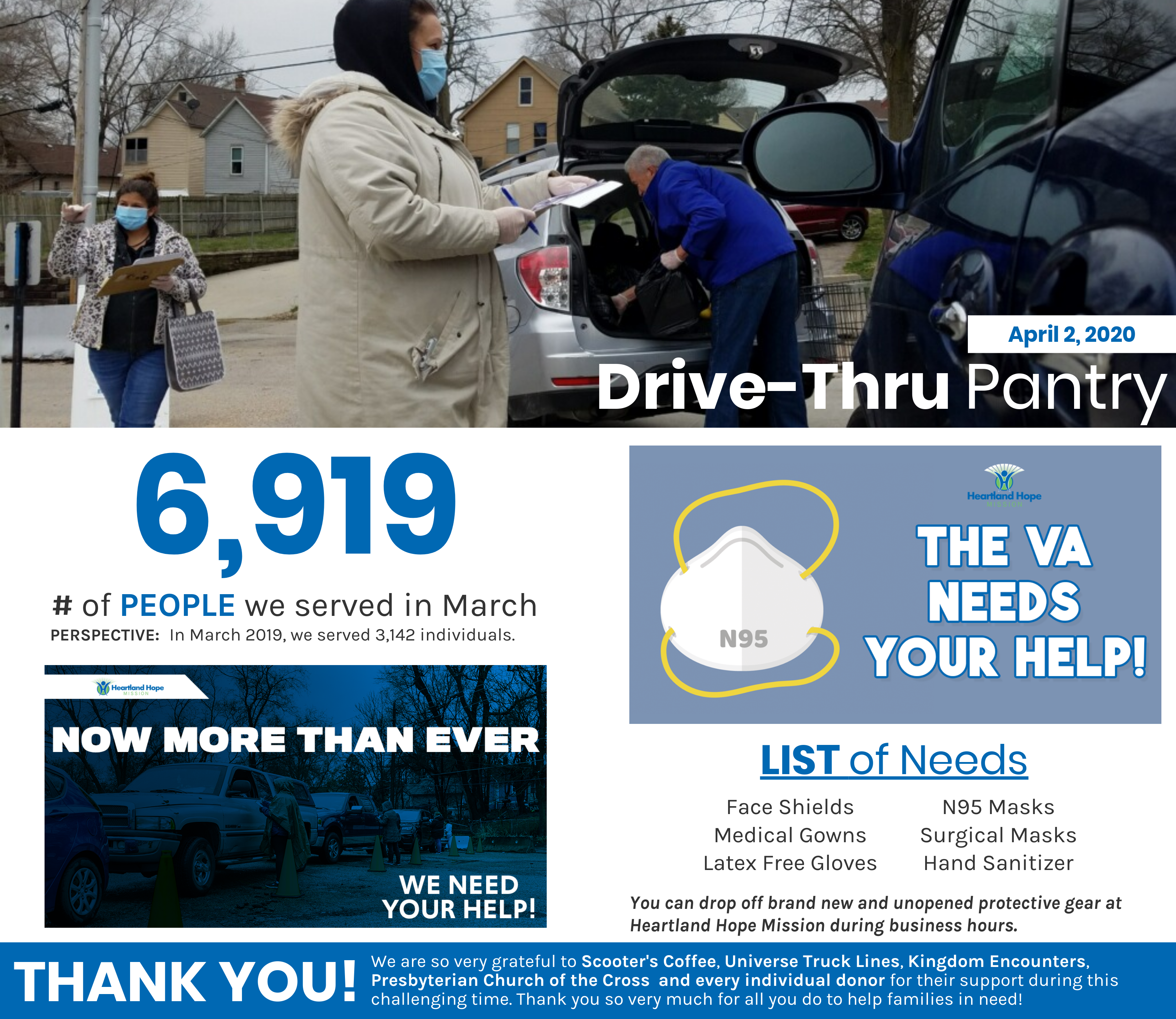 ---
March 26, 2020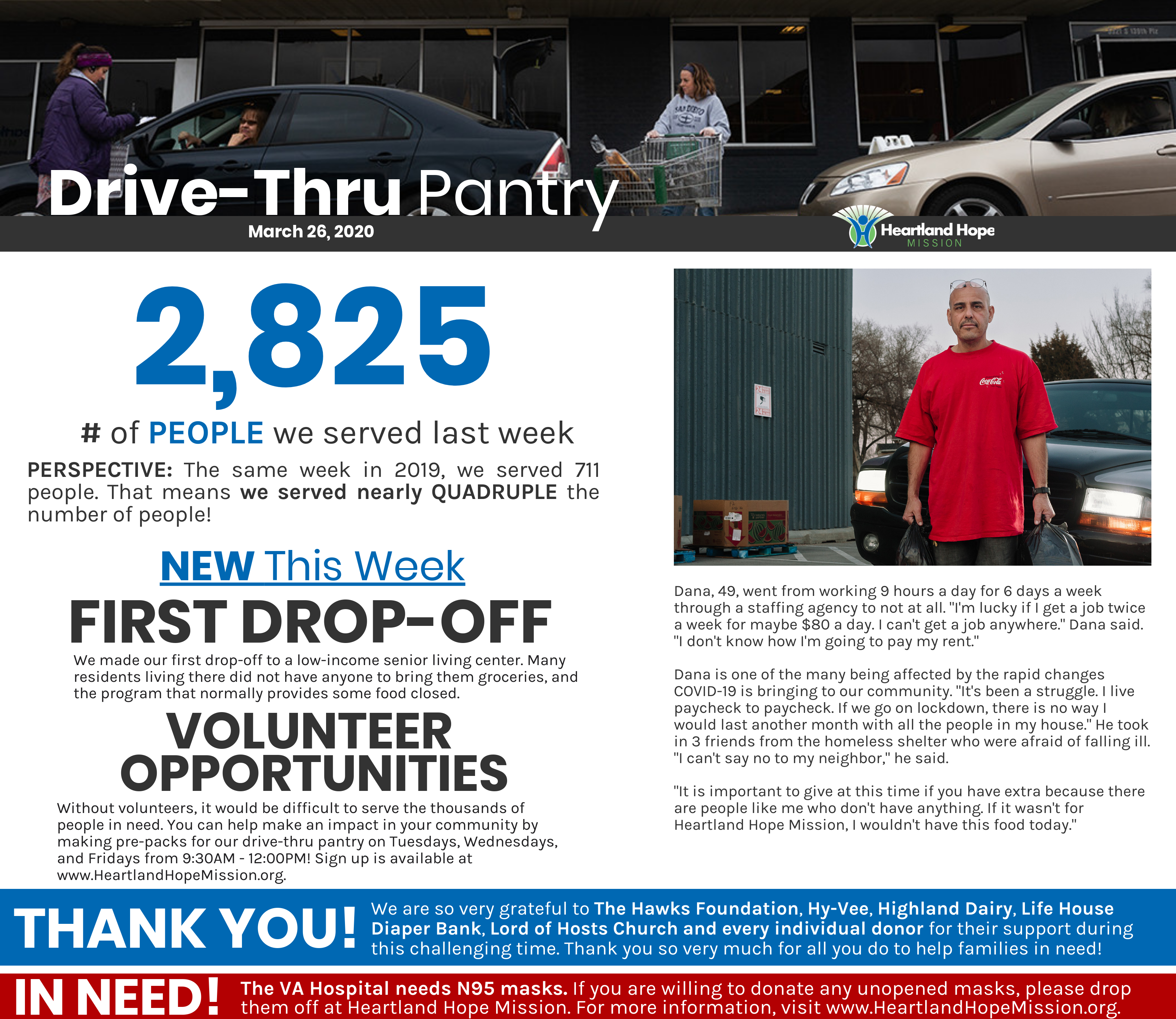 ---
March 19, 2020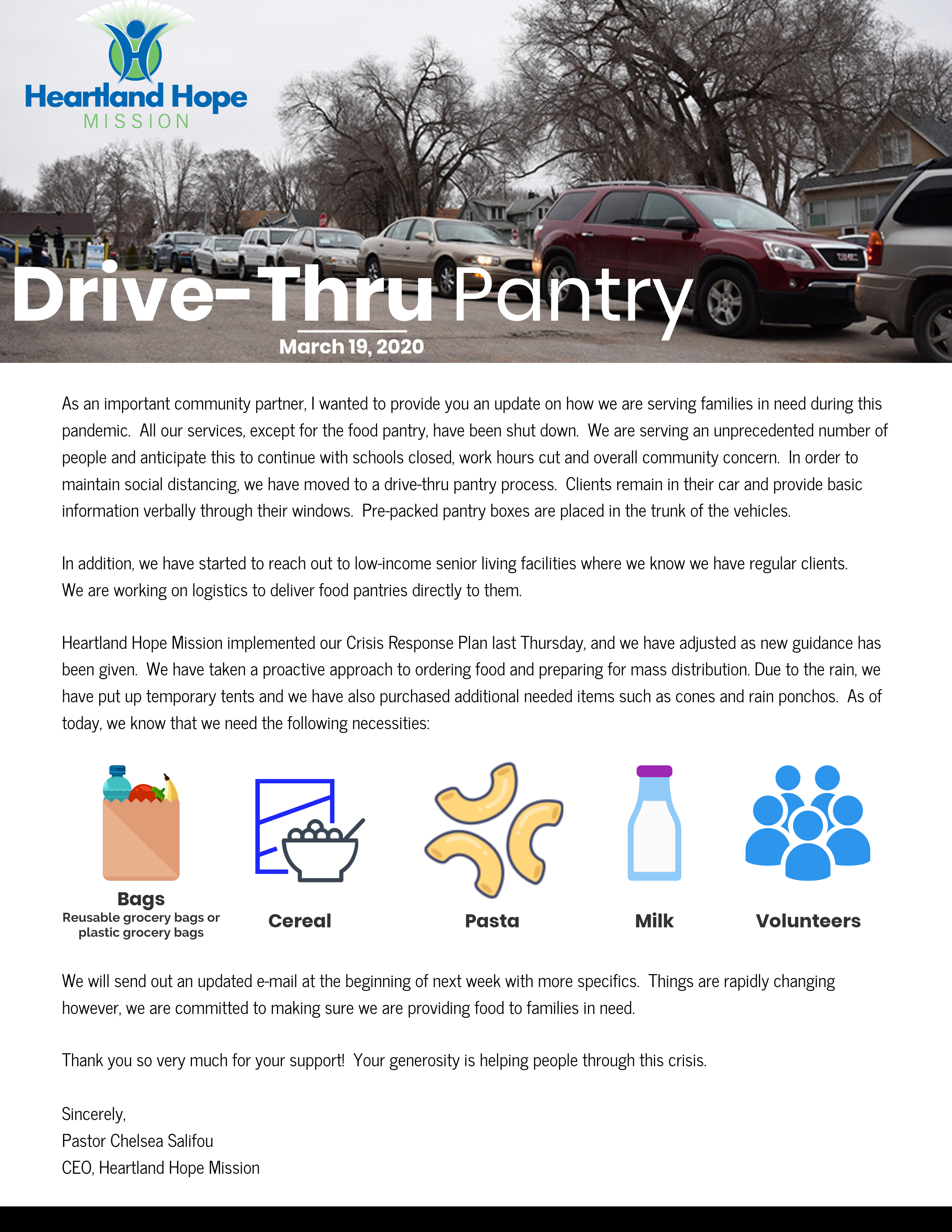 ---
March 12, 2020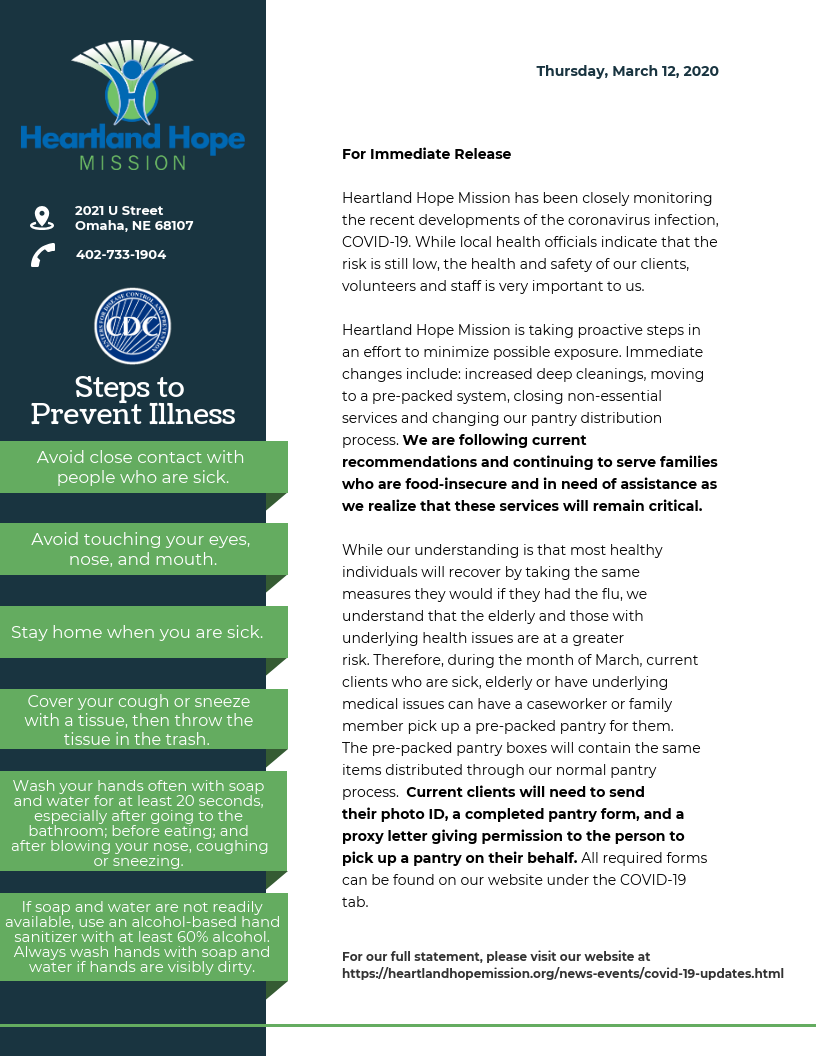 ---
Change in Services
The safety of our clients, volunteers, and staff are of the utmost importance to us at Heartland Hope Mission.  We also realize that the current situation makes our services even more critical as families may be missing work and their children may not be receiving free and reduced lunch. We need our volunteers now more than ever!   
As a result, we will be changing how we are serving families in need.  These changes will help minimize contact between people and increase how quickly we are able to serve people.  Volunteers will not have any contact with clients, and we will be encouraging social distances among volunteers. 
Some of these will include: 
Pre-packed food boxes will be provided. These boxes will include milk, meat, produce, bread, and canned and boxed goods. The food should last for 7 – 9 days.

Client Service will be closed. Clients will be able to call a Client Service Specialist if they need additional assistance.

Resources sheets will be available.

The clothing area will be closed.

Job Paths will be closed.

Paperwork will be minimized.

The number of people in the building at one time will be limited.

Current clients who are elderly or have compromised immune systems can have a caseworker, friend or family pick up their food box IF they send the person with their photo ID and a letter giving the person permission to pick up their food

(Forms available below to download or you can pick one up from a Heartland Hope Mission staff member.)
This form is used for individuals who are unable to come to the food pantry physically and need a family member/friend to pick up their food pantry. This form needs to be filled out by the individual who receives the food pantry and by the individual who picks up the food pantry.

To receive services, this application needs to be filled out completely, front and back.
We ask that clients: 
Do not come early. For your protection, it is best to minimize contact with others.

Have your ID pulled out and ready to show a staff member (and your pantry card, if you have one)

Do not bring your children unless it is necessary. As much as possible, it is good to minimize your children's contact with others.

Try to leave about 6 ft. between you and the people around you. This is to protect you.
Please note that these changes are in response to the current situation.  Additional measures may be implemented if necessary to protect our clients, volunteers, and staff. 
---
Below are a few items the CDC has shared about prevention.  For a full list, visit their site at https://www.cdc.gov/coronavirus/2019-ncov/about/prevention-treatment.html.
Avoid close contact with people who are sick

Avoid touching your eyes, nose, and mouth.

Stay home when you are sick.

Cover your cough or sneeze with a tissue, then throw the tissue in the trash.

Wash your hands often with soap and water for at least 20 seconds, especially after going to the bathroom; before eating; and after blowing your nose, coughing, or sneezing.

If soap and water are not readily available, use an alcohol-based hand sanitizer with at least 60% alcohol. Always wash hands with soap and water if hands are visibly dirty.
Other Resources for COVID-19: https://www.nebraskachildren.org/covid-19-information-and-resources.html